This 1996 Toyota 4Runner was a SEMA-Sponsored High School Vehicle Build (HSVB) project for OPS Career Center in Omaha, NE. The build was led by Automotive Shop Instructors David Pippert and Bradley Goodwin, with assistance from Ryan Messerschmidt, Welding Instructor, as well as over 30 students throughout its time at the school's automotive shop with nearly 200 hours invested in the build.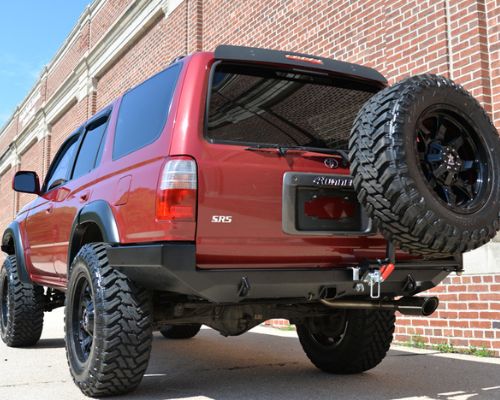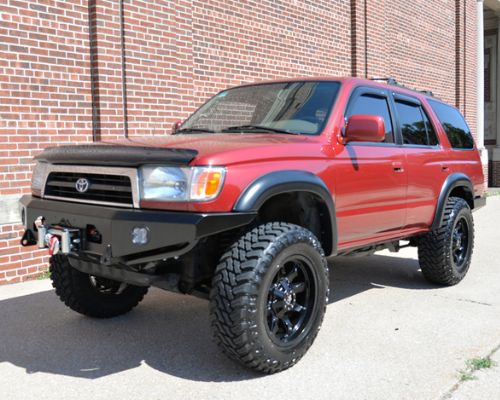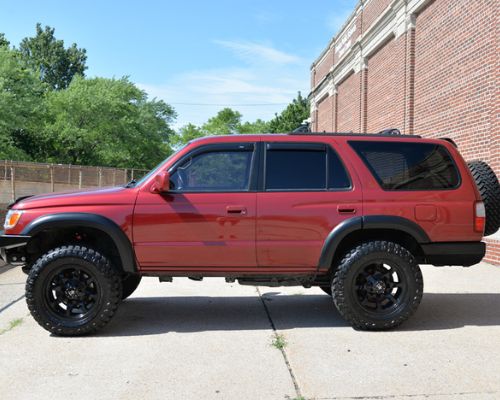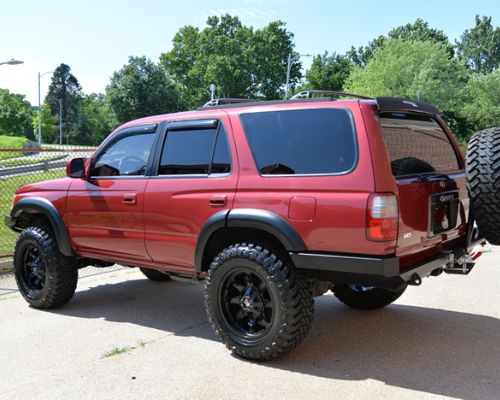 The exterior is Sunfire Red Pearl in color with a black and tan interior. There are over $13,500 in added aftermarket and OEM parts on this build, not including the nearly 200 hours of labor, materials or consumable supplies. Overall value of the completed upgrades is well over $25,000.
PRP Enduro Reclining Seats and Custom Back Bench Seat
Planted – Driver and Passenger Seat Mounting Brackets
Custom Fabricated Rear Seat Mount
Auto Custom Carpets (ACC) – Plush Cut Pile Replacement Carpet Kit
Husky - Front and Rear Floor Liners
Linear Logic - ScanGauge 2 Vehicle Monitor System
Tuffy Security Products - Universal Valuables Safe w/Camlock (included, but not currently installed)
Covercraft - UVS100 Custom Sunscreen
True North Fabrications - Front and Rear Plate Bumpers
True North Fabrications - Spare Tire Carrier Swingout
WARN Industries – VR EVO 8 Winch w/relocated controller box
Bushwacker – Fender Flares
BOLT Lock – Hitch Receiver Lock, Padlock and Cable Lock (included, but not currently installed)
Draw-Tite – 118341 Trailer Wiring Adapter Kit (Flat 4 Style)
ORACLE Lighting - H4 - S3 LED Headlight Bulb Conversion
Diode Dynamics – SS3 LED Pod Lights w/custom 3D printed mounting adapter in bumper
Diode Dynamics – LED Tail Light Bulbs
AVS – In-Channel Ventvisor Front Side Window Deflectors
RBP Wheels – 81R Saharan 1890-83-00FB, 18"x9" with Black Finish
Atturo Tire - LT275/65/R18 Trail Blade M/T Tires, 32.3" height
Function and Form – 2" Leveling Kit
K&N Engineering – 57-9013 Performance Air Intake System
Borla Performance - 14659 Cat-Back Exhaust System
PowerUp 700 Jump Start Pack
MagicMount™ Qi Pro Charge5 for Window or Dash
PowerVolt™ PD32 – USB A+C Home Charger
PowerVolt™ QC38 – USB A+C Car Charger
Assortment of USB-C, Micro-USB and Lightning cables
ThudBuds™ True Wireless Earbuds
Scosche Multicam Bear Logo Hat
Scosche Sticker Pack (6)
BUILD UPDATES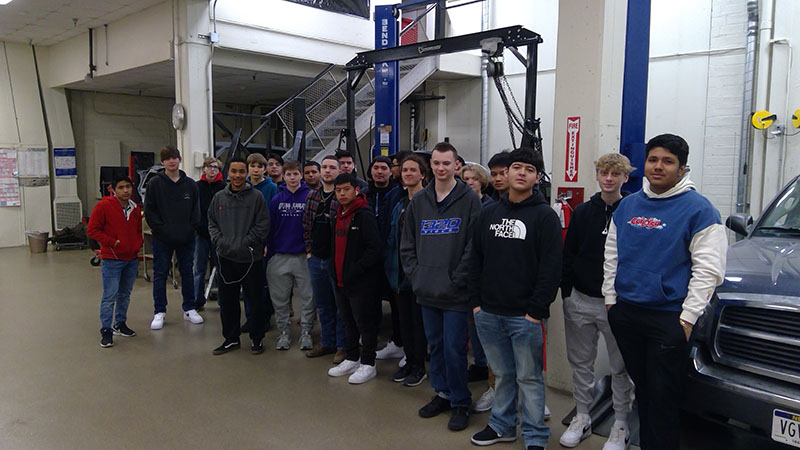 January 2020
1996 Toyota 4Runner Delivered to Omaha Public Schools Career Center Auto Shop
Omaha Public Schools (OPS) Career Center, located in Omaha, NE is partnering with the Specialty Equipment Market Association for their high school vehicle build program. Students of the high school auto tech program will be customizing a 1996 3rd Gen Toyota 4Runner before the end of the 2020 school year.
The program, aimed to provide an educational, hands on experience while introducing high school students to the customization hobby has generated interest and support from the industry. Many companies have raised their hands to support the builds through product donations. OPS Career Center's sponsors are listed below.
MEET THE SCHOOL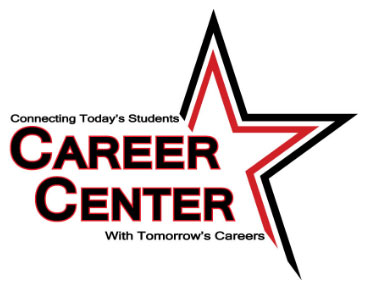 The Omaha Public Schools (OPS) Career Center Automotive Program is a three-year automotive technology program with two ASE Certified instructors. Enrollment is available for students attending one of seven OPS High schools. Opened in 1985, the Career Center continues the legacy of former Omaha Technical High School (1924-1984). Automotive Technology has been an integral program since the beginning of Technical High School.

Students can take courses in Steering and Suspension, Brakes, HVAC, Engine Repair, Engine Performance, Transmissions, and Electrical. More than 12 industry certifications can be earned by students. Additionally, automotive courses taken at the Career Center are recognized as related instruction in Youth Registered Apprenticeships with two local car dealers. There are between 80-100 students enrolled annually in the Automotive Technology program.
SPONSORS - Omaha Public Schools Career Center