This 2002 Jeep Wrangler TJ was a SEMA-Sponsored High School Vehicle Build (HSVB) project for the Automotive Program at Santa Fe Early College Opportunities (ECO) in Santa Fe, NM for the third consecutive season. The build was led by Shop Director and Collision Instructor Chris Coriz with assistance from John Seymour, Automotive Mechanics Instructor, along with roughly 120 students throughout its time at the school's automotive training facility. There are over 160 hours invested in the build.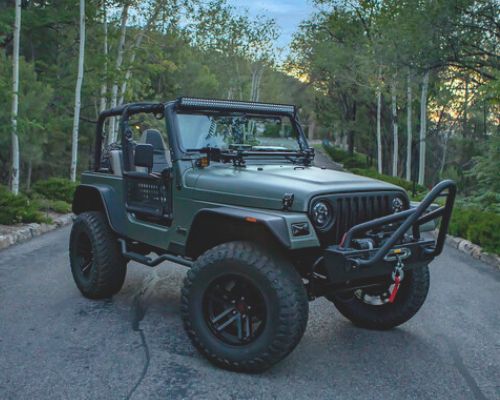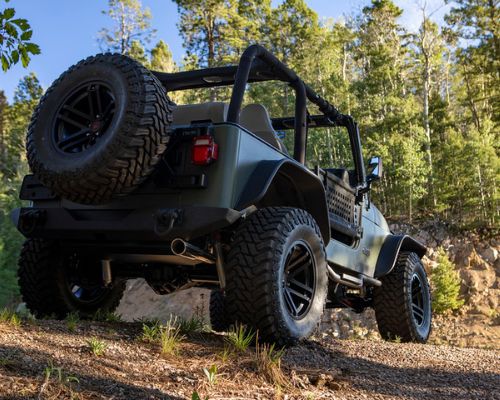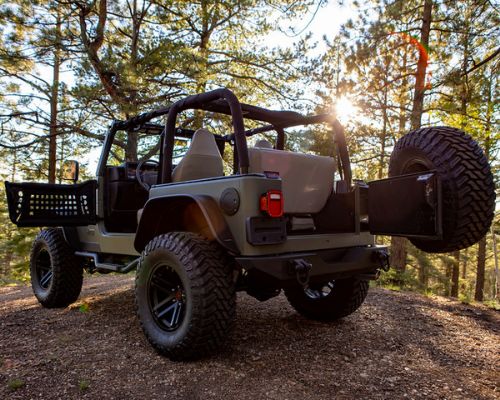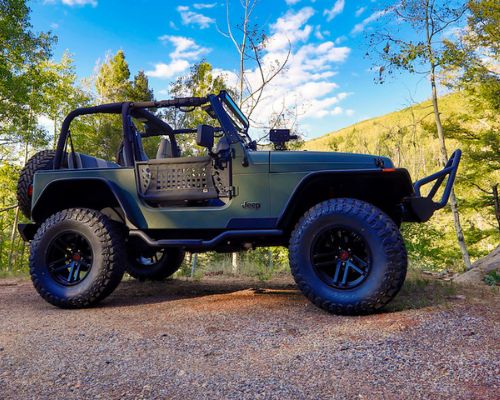 The exterior has been fully custom painted in a USC Dominator Bed Liner tinted Matte Green with the original black hardtop. Both the OEM doors and trail doors are included, each with their own set of mirrors. The frame and under body were also fully detailed and painted with 3M undercoating topped with SEM semi-gloss hot rod black. Suspension and drivetrain components were also detailed in SEM black.
There are over $23,000 in added aftermarket and OEM parts on this build, not including the 160 plus hours of labor, paint materials or consumable supplies. Overall value of the upgrades is well over $31,000.
Katzkin Leather – Front and Rear Custom Leather Seats
Thermo-Tec – Thermo Guard Sound Deadening and Heat Barrier Mat
Azzy's Design Works – Gauge Face Overlays (EuroHex)
Champion Seat Systems – Seat Heaters (included, but not currently installed)
Omix-ADA – Deluxe Carpet Kit
Husky – Front and Rear Floor Liners
Rampage – Universal Dual Strap Grab Handle
Tuffy Security Products – Jeep Driver's Side Underseat Locking Security Drawer
Covercraft - UVS100 Custom Sunscreen
Custom Matte Green Paint and Black Refinished Hardtop
Rugged Ridge - XHD Front and Rear Bumpers
Rugged Ridge – Spartacus Spare Tire Mount
Rugged Ridge – Rock Slider Step Side Bars
Bushwacker -Flat Style Textured Finish 4-Piece Fender Flare Set
Rough Country – Trail Doors and Mirrors (OEM painted/finished doors also included)
Rampage - One-Piece 3D Grille
ORACLE Lighting – LED Sealed Beam Headlamps
Rampage - Rock Guard
Rugged Ridge - Hood Catch Kit, Textured Black
Rugged Ridge -Trekker 10 Winch w/ Synthetic Rope & Wireless Remote
WARN Industries - Winch Mount
BOLT Lock – Hitch Receiver Lock, Padlock and Cable Lock
Diode Dynamics – SS3 LED Pod Lights
Rugged Ridge – 50" LED Light Bar
Raxiom - 50" LED Light Bar Windshield Mount
Rough Country – 6-Button Multiple Light Controller
Rugged Ridge – LED Tail Lights
Hi Lift – 41" Jack from prior ownership
Rugged Ridge -Jack Mounting Bracket
Kleinn Air Horns – Dual Air Horn Kit w/Submersible Compressor (included, but not currently installed)
Rampage Soft Top (included, but not currently installed)
Fully Undercoated & Paint Detailed Black Frame and Under Body
Fully Paint Detailed Black Suspension, Axles and Drive Shafts
Painted Engine Block (Black) and Valve Cover (Body Color Green)
Rugged Ridge – Matte Black Jesse Spade 17"x9" Wheels
Alloy USA – Hub-Centric Wheel Adapter Kit (5 on 5" to 5 on 4.5")
Atturo Tire – 35x12.5R17LT Trail Blade M/T Tires, 34.8 Height
Rancho Suspension - 3.5-inch Short Arm Suspension Lift Kit and Shocks
ARB - Air Locker Differentials on Dana 35 Front and Dana 44 Rear (3:73 Gears)
Custom Tubular Differential Rock Guards from prior ownership
Rough Country - Rear Forged Adjustable Track Bar
Extreme Terrain - Slip Yoke Eliminator Kit (J115336)
Rugged Ridge – Stainless Steel Exhaust Header and Cat Back Exhaust
Custom Made Fuel Tank Skid Plate
Rugged Ridge - Performance Cold Air Intake System
Optima – Yellow Top Group 34 AGM Dual Post Battery
PowerUp 700 Jump Start Pack
MagicMount™ Qi Pro Charge5 for Window or Dash
PowerVolt™ PD32 – USB A+C Home Charger
PowerVolt™ QC38 – USB A+C Car Charger
Assortment of USB-C, Micro-USB and Lightning cables
ThudBuds™ True Wireless Earbuds
Scosche Multicam Bear Logo Hat
Scosche Sticker Pack (6)
BUILD UPDATES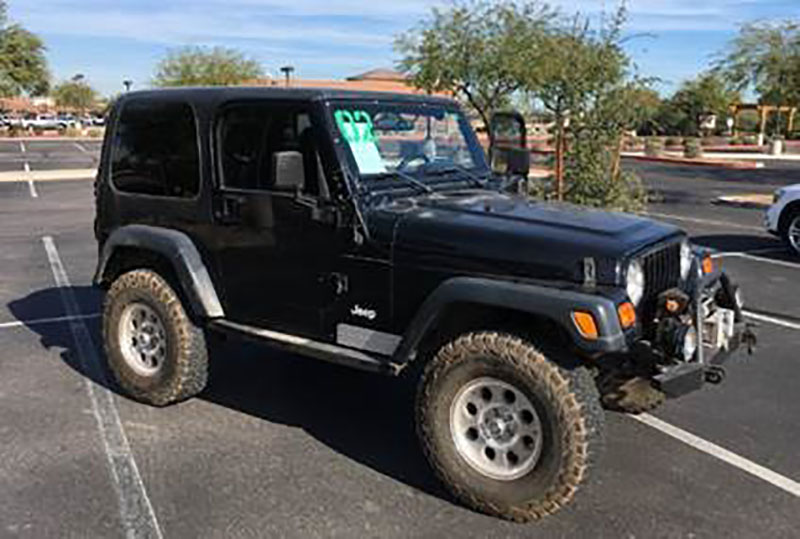 January 2020
2002 Jeep Wrangler Delivered to Santa Fe ECO Auto Shop
Santa Fe ECO, located in Santa Fe, NM is a returning partner of the Specialty Equipment Market Association for their high school vehicle build program. Students of the high school auto tech program will be customizing a 2002 Jeep Wrangler TJ before the end of the 2020 school year.
The program, aimed to provide an educational, hands on experience while introducing high school students to the customization hobby has generated interest and support from the industry. Many companies have raised their hands to support the builds through product donations. Santa Fe ECO's sponsors are listed below.
MEET THE SCHOOL

Santa Fe Early College Opportunities Applied Science Magnet School (Santa Fe ECO) is a magnet high school that provides applied sciences and tech training along with traditional academic classes. The school has a robust automotive education program with training in auto tech, auto collision and welding courses. SEMA partnered with Santa Fe ECO in 2018 to pilot the High School Vehicle Build Program with a 2015 4WD Jeep Wrangler Unlimited that the students rebuilt and customized. The Jeep was auctioned off for more than $56,000, which led to the continued expansion of the program. Check out their 2018 build! The students at Santa Fe ECO will be building a 2002 Jeep Wrangler as part of the 2020-2021 SEMA High School Vehicle Build. The Jeep will again be sold at the end of the school year. Proceeds from the auction will go towards funding another vehicle build for the school.