This 2001 Jeep Wrangler TJ was a SEMA-Sponsored High School Career Center High School in Winston Salem, NC. The build was led by Automotive Shop Instructors Michael Gaffner and Scott Binkley along with the Collision Instructor Randall Gentry. Roughly 150 students throughout its time at the school's automotive shop worked on the build. There are over 300 hours invested in the build.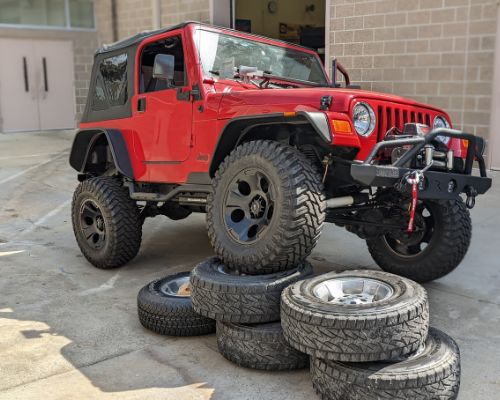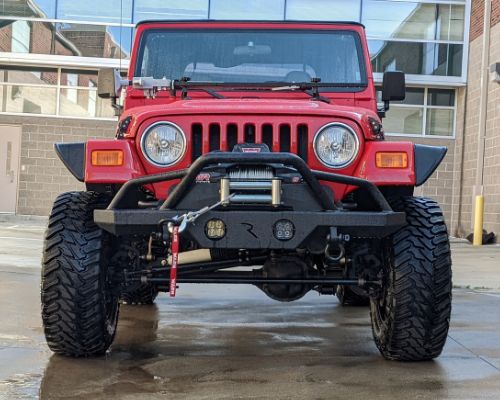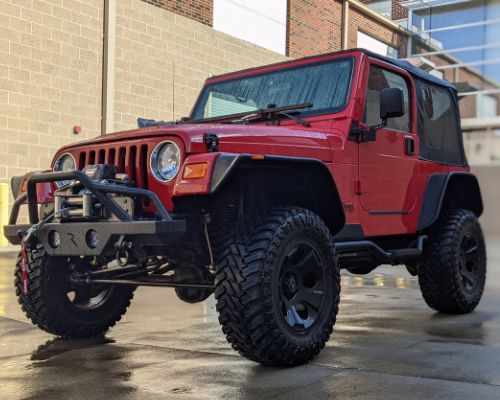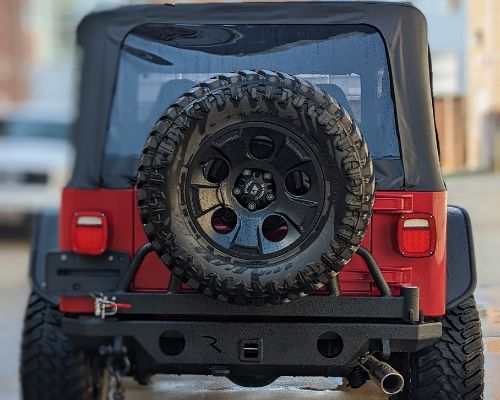 The exterior has been fully custom painted in a red, roll cage in black, with complimenting black vinyl soft top.
"The students focused on learning the aspects of maintenance and light repair including electrical, steering and suspension, brakes, engine performance and repair. The students intend for the build to be a daily driver with weekend fun capabilities. They focused on the idea of making all upgrades and changes appear OEM in style, function, and look. This was an amazing learning experience for the students and offered them opportunities that they will benefit from throughout their careers."
- Michael Gaffner, Automotive Instructor
Career Center High School
The value of the investment between the added aftermarket and OEM parts on this build, paint materials and consumable supplies is over $30,000, not including the 300 hours of labor.
Katzkin Leather – Front and Rear Custom Leather Seats
Champion Seat Systems – Seat Heaters
Thermo-Tec – Thermo Guard Sound Deadening and Heat Barrier Mat
Azzy's Design Works – Gauge Face Overlays (Don't Tread on Me)
OEM Toggle switches for heated seat and light bar
Battery kill switch for Warn winch
Omix-ADA – Deluxe Carpet Kit (Gray)
Husky – Front, Rear and Cargo Floor Liners
Rampage – Universal Dual Strap and Extreme Sport Grab Handles
Tuffy Security Products – Jeep Driver's Side Underseat Locking Security Drawer
Covercraft - UVS100 Custom Sunscreen
Custom Red Paint
Rampage - Frameless Trail Top
New Omix-ADA Hood
Rugged Ridge - Hood Catch Kit, Textured Black
Rugged Ridge – Recovery Front and Rear Bumpers
Rugged Ridge – Recovery HD Spare Tire Mount w/Red LEDs
Rampage – RRC Rocker Guard Kit
Bushwacker -Flat Style Textured Finish 4-Piece Fender Flare Set
T-Rex - Jeep X-Metal Grille (Installed into custom built boom box included with sale)
Rugged Ridge – LED Sealed Beam Headlamps
Rugged Ridge – LED Tail Lights
Diode Dynamics – SS3 LED Pod Lights wired to OEM light switch
LED Light Bar – rearward mounted for a work light or backing up on dark trails
WARN Industries – VR EVO 8 Winch
WARN Industries - Winch Mount
BOLT Lock – Hitch Receiver Lock, Padlock and Cable Lock
Rugged Ridge – Mirror Relocation Bracket
Smittybuilt – 54" Trail Jack
Rugged Ridge -Jack Mounting Bracket
Steele Rubber Products - Front Door and Window Felt Beltline Outer Weatherstrip
Spare tire mounted LED 3rd brake light ring
Rugged Ridge –Black Satin Drakon 17"x9" Wheels
Atturo Tire – 33x12.5R17LT Trail Blade M/T Tires, 32.8 Height
Skyjacker Suspensions - 4" Dual Rate Long Travel Lift System (Springs, Black Max Shocks, Control Arm Links, Extended Sway Bar Links, Track Bar Relocation, Bump Stop Extensions & Shifter Bracket)
Rugged Ridge – HD Steering Damper Kit
Rugged Ridge – Stainless Steel Cat Back Exhaust System
Air Raid - Performance Cold Air Intake System
Optima – Yellow Top Group 34 AGM Dual Post Battery
Complete vehicle inspection completed by Parkway Ford in Winston Salem, NC
New Delphi ignition coil packs and Bosch Iridium spark plugs
Replacement sun visor brackets
Complete Royal Purple engine oil and filter change
Complete Mopar automatic transmission fluid and filter change
Complete Valvoline Full Synthetic differential fluids changed, new gaskets
Complete brake fluid flush with Prestone DOT 3 Synthetic
Complete coolant flush with new Valvoline antifreeze
Complete transfer case flush with Valvoline Full Synthetic
PowerUp 700 Jump Start Pack
MagicMount™ Qi Pro Charge5 for Window or Dash
PowerVolt™ PD32 – USB A+C Home Charger
PowerVolt™ QC38 – USB A+C Car Charger
Assortment of USB-C, Micro-USB and Lightning cables
ThudBuds™ True Wireless Earbuds
Scosche Multicam Bear Logo Hat
Scosche Sticker Pack
BUILD UPDATES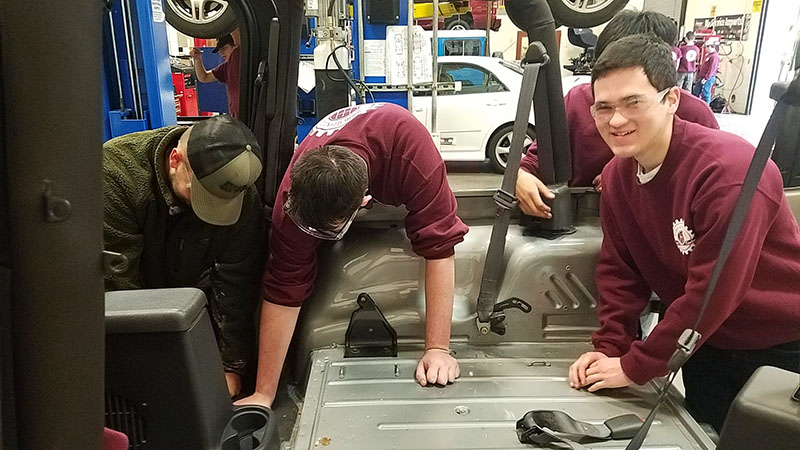 January 2020
Career Center and SEMA Collaborate
Written by Morghyn Frederick
Automotive Technology Student Career Center High School
Specialty Equipment Market Association (SEMA) has recently added Career Center High School (as well as a couple other schools) to their list of schools in 2019. Those schools include, Career Center High School in Winston-Salem, NC, Comstock High School in Kalamazoo, MI, John Hersey High School in Arlington Heights, IL, McGavock High School in Nashville, TN, Mon Valley Career and Technology Center in Charleroi, PA, Omaha Public Schools Career Center in Omaha, NE, R.L. Turner High School in Carrollton, TX, Santa Fe ECO in Santa Fe, NM, Santa Ynez Valley Union High School In Santa Ynez, CA, Wichita Falls Career Education Center in Wichita Falls, TX.
Now that we are part of the High School Vehicle Build Program, they sent us a 2001 Jeep Wrangler with a little more than 70,000 miles on it for us to "supe-up" and design as we please. I think I speak for every automotive class at Career Center when I say that we are excited to work on this Jeep.
SEMA's High School Build Program is a relatively new one. Since it began three years ago in 2017, it has expanded from only one participating school to adding 10 additional just this year alone! "The program aims to engage students in the customization lifestyle and introduce them to a career path within the automotive aftermarket industry..," according to SEMA's recent article.
SEMA's Youth Engagement Program Manager, Katie Hurst, claims that the program gives students applicable skill sets, real-world knowledge as well as a sense of community.
Over the course of his semester, students will gain hands-on-experience with entire vehicles and the aftermarket industry by exploring important skill sets such as installation, body-styling, and, of course, team building.
I can say that I am excited to both work on a one-of-a-kind vehicle as well as getting closer to my classmates. Automotive Technology has introduced to me a whole new aspect of engineering and brought me together with so many different people, and I am proud to call them my friends.
As one of the few females in the automotive classes, I was initially super nervous about going into a predominantly male industry. However, if it wasn't for the support of the teachers and my friends, I'm convinced I wouldn't be working as hard as I am right now.
This automotive class and SEMA program collaboration not only makes room for new career paths but also makes room for a second family.
MEET THE SCHOOL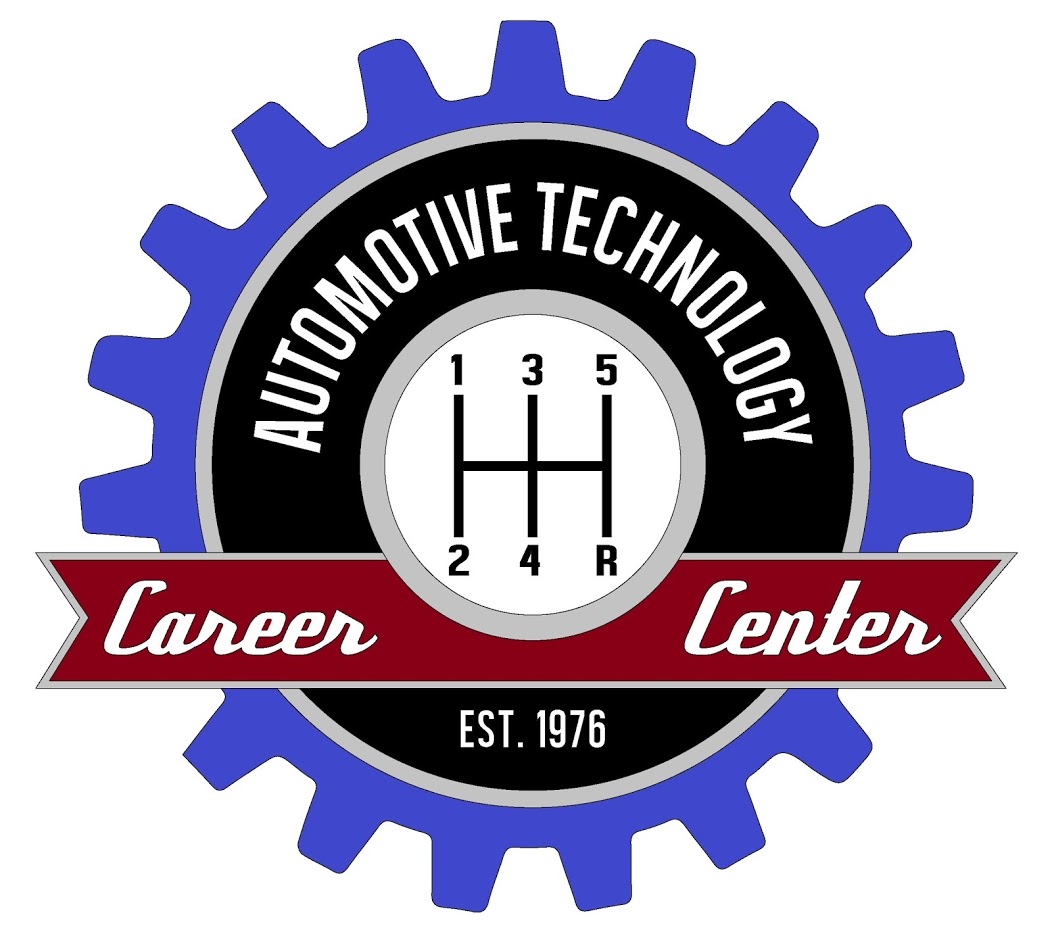 Since 1976 Career Center High School has served as an extension of the traditional high school programs offered in the local area. Students maintain their affiliation with their home high schools while completing Career Center courses. Career Center offers a challenging academic environment and unique learning opportunities where students may choose to participate in Advanced Placement, Career Technical, Regular Curriculum and some specialty courses.

The Automotive Technology Department at Career Center offers a two-year program that can be completed over 4 semesters which includes: Introduction to Automotive Service, Automotive Service I, Automotive Service II, and Automotive Service III. The program is comprised of service and safety, engine repair, automatic transmission and transaxles, manual drivetrain and axles, suspension and steering, HVAC, and engine performance. This includes advanced knowledge and skills in vehicle system repair and replacement of components in the brake, electrical systems, drivetrain, engine, HVAC, and the steering and suspension system.

While in the automotive technology program, students learn advanced automotive skills in vehicle servicing, testing, repair, and diagnosis of brakes, electrical systems, drivetrain, engine, HVAC and steering and suspension systems with an emphasizes in hands-on experience. Career Center High School is ASE Education Foundation Accredited (NATEF) in Maintenance and Light Repair (MLR). The program is comprised of four instructors and a diverse selection of 150 to 200+ students per year. Anywhere from 50 to 75 percent of the students go on to work in the Automotive Industry.
SPONSORS - Career Center High School